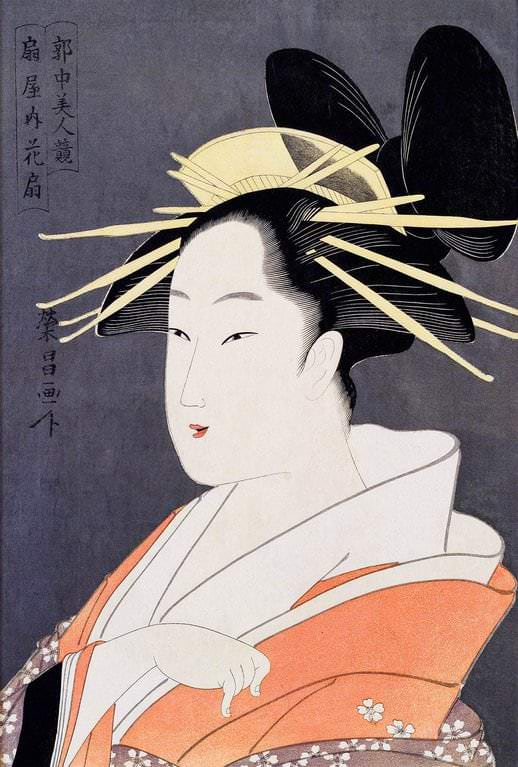 Chokosai Eisho
Beautiful courtesan with flower fan 1790s
| | |
| --- | --- |
| Artist/creator | Chokosai Eisho |
| Title | Beautiful courtesan with flower fan |
| Date | 1790s |
| Medium | hand coloured woodblock with mica |
Chokosai Eisho was active from in the period from 1780 to 1800 as an 'ukiyo-e' painter and print designer. He was a pupil of Chôbunsai Eishi (1756–1829), who hailed from a samurai family. As an eldest son he was destined to assume responsibility as head of his family, but he preferred to become an artist and renounced his birthright.
Eisho's designs are considered less idyllic and more robust and life-like than those of his teacher Eishi. He produced numerous 'bijin-ga' series and several 'kibyoshi'. His work also shows the influence of Kitagawa Utamaro, (1753-1806) who is considered the greatest 'ukiyo-e' artist, particularly in his portraits ('okubi-e'). He was most famous for depictions of beautiful women, especially geisha and courtesans in their daily life.
Both Chokosai Eisho and his teacher Chobunsai Eisha worked in the late period of the pre-eminent artist Kitagawa Utamaro, which can justifiably be called the golden age of 'bijin-ga'. In the mid-nineteenth century, this style influenced the European Impressionists, particularly in relation to the use of partial views and an emphasis on light and shade. The reference to Japanese influence among these artists often refers to the styles of the golden age of 'bijin-ga'.
Stay in touch with all the latest from Geelong Gallery.