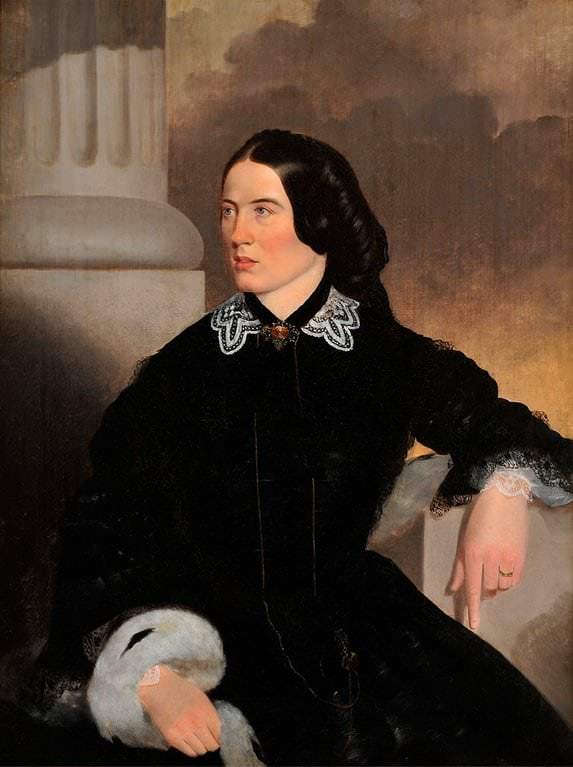 Robert Dowling
Mrs Margaret McArthur of Meningoort 1856–57
| | |
| --- | --- |
| Acc. no. | 1995.87 |
| Artist/creator | Robert Dowling |
| Title | Mrs Margaret McArthur of Meningoort |
| Date | 1856–57 |
| Media | Oil |
| Medium | Canvas |
Robert Hawker Dowling was born in Britain on 4 July 1827. In 1834 with his family, he migrated to Australia.
He completed an apprenticeship in saddlery in 1850, although he left this career almost immediately advertising his services as a professional portrait painter.
At the age of 27, married and with an infant daughter, Robert Dowling moved to Victoria to set up a practice in Geelong as proprietor of a commercial art gallery specialising in photography. He was responsible for painting oil portraits and tinting photographs. He secured commissions from Western District pastoralists and extended his portraiture to the Aborigines of the region, documenting their social interaction with European settlers.
Robert Dowling and his family left Australia for Britain in April 1857, to further his training and career as a painter. From the 1860's, he exhibited at the Royal Academy, London and with the Royal Society of British Artists. In 1884 he returned to Australia, settling in Melbourne where he opened a studio. In 1886 he returned to London once again and died three months later.
Stay in touch with all the latest from Geelong Gallery.