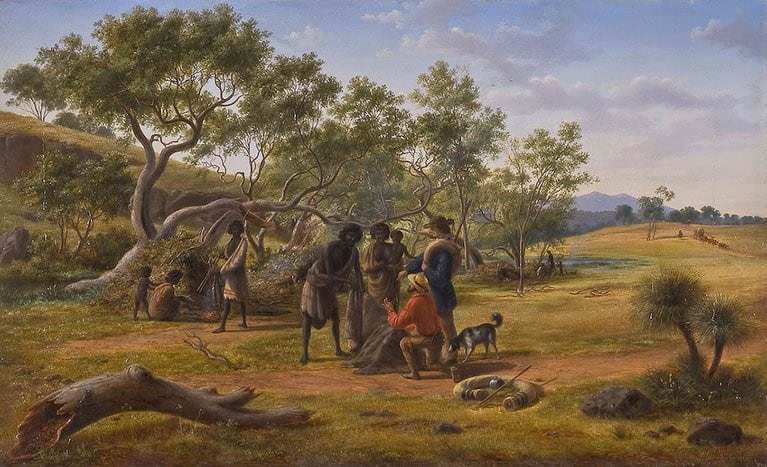 Eugene von Guérard
Aborigines met on the road to the diggings 1854
| | |
| --- | --- |
| Artist/creator | Eugene von Guérard |
| Title | Aborigines met on the road to the diggings |
| Date | 1854 |
| Medium | oil on canvas |
Eugene von Guérard was born in November 1811 in Vienna and migrated to Australia in 1852 at the time of the Victorian gold rush. He is one of our most important colonial landscape painters.
He studied traditional landscape painting in Rome under Giovanni Battista Batti. In 1838 he studied at the Düsseldorf Academy of Art in Germany, where he was encouraged to paint directly from nature and was influenced by the poetic and expressive tradition of Dutch landscape painting. Von Guérard's interest in the beauty, mystery and grandeur of nature has direct links to Romanticism. He was also influenced by the Nazarenes, a group that included a number of German artists who sought to return spiritual values to art. At the same time, developments in science informed von Guérard's painting of the natural world and he was similarly attracted by the work of renowned scientist and explorer Alexander von Humboldt (1769–1859).
Lured to Australia by the gold rush, von Guérard tried his luck on the Ballarat goldfields. He painted in Australia from 1852 until 1882. Curiosity about the Australian countryside and its wilderness regions was nurtured by his extensive travels that in turn
Stay in touch with all the latest from Geelong Gallery.