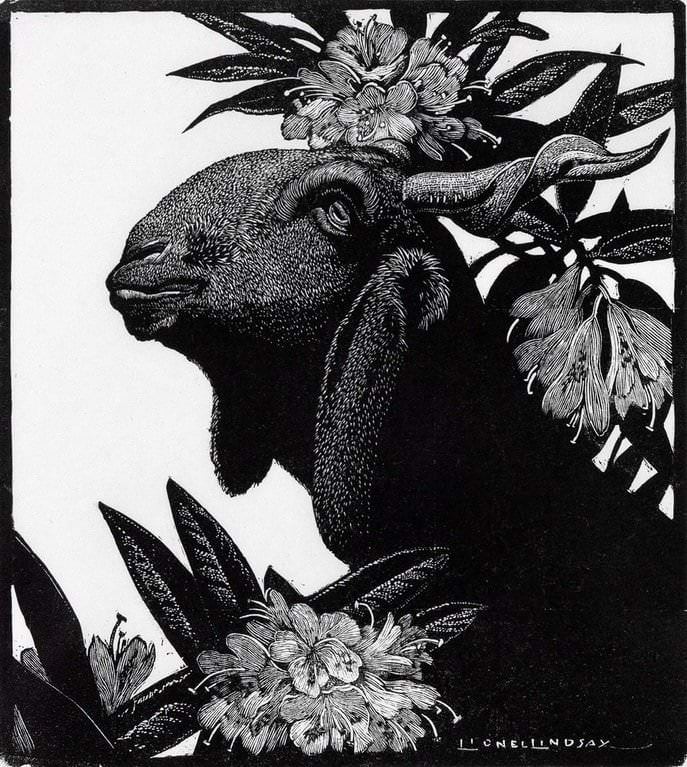 Lionel Lindsay
Goat and rhododendron 1925
| | |
| --- | --- |
| Artist/creator | Lionel Lindsay |
| Title | Goat and rhododendron |
| Date | 1925 |
| Medium | wood engraving |
Born in Creswick, Victoria, in 1874, Lionel was the third child in a family of 10 children. Of these, five became full-time artists. All the boys were educated at the local state school and at Creswick Grammar School, where Percy, Lionel and Norman, in turn, edited the Boomerang, the school's unofficial magazine. Their early interest in art was encouraged by their maternal grandfather, the Reverend Thomas Williams, who took them on regular visits to the art gallery in Ballarat.
After completing school, Lionel and his brother Norman moved to Melbourne. Later they both moved to Sydney. As skilled and high profile artists who worked in black and white, they were hired by the most famous magazine of the day, The Bulletin.
Lionel loved travel and met Jean Dyson, the woman he was to marry, during a trip to Italy. On their return to Australia, he began to etch the old buildings and historic landmarks of Sydney. Today these etchings are regarded as some of the finest impressions of early Australia ever recorded.
In 1922 Lionel completed a series of woodcuts depicting birds. The prints from these woodcuts are regarded as some of the finest in the world, showing great depth of feeling, through the artist's mastery of expression and form.
Stay in touch with all the latest from Geelong Gallery.